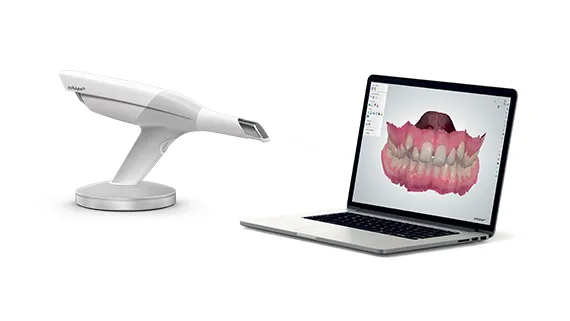 If you've ever disliked the process of having gooey dental impressions tickling the back of your throat or having to wait to schedule a treatment while models of your teeth were mailed off to a lab, you're in luck.
Thanks to 3Shape's TRIOS 3D intraoral scanning technology, we can capture a digital "impression" of your tooth (or entire smile) in one easy step. It's comfortable, convenient, and provides extreme accuracy that surpasses that of conventional impressions.
The small, handheld TRIOS imaging wand scans each curve and cusp inside of your mouth, transferring that data directly into the 3Shape computer program. From there, we can view a digital replica of your smile to discuss treatments, plan restorations, or even talk about what's possible with a cosmetic smile makeover.
Like a physical model, the TRIOS 3D intraoral scanned image allows you to view all sides of your smile, rotating it within the 3Shape software program.
Preview a Cosmetic Smile Makeover
What would your teeth look like if they were whiter? Wider? More even?
Traditional cosmetic consultations often rely on what's called a "wax up" made by a lab technician to get a look and feel for what's possible with custom veneers or crowns.
But with the 3Shape software, a few clicks of the mouse are all that it takes. We can adjust different characteristics of your teeth so that you can see the changes on a screen, during your examination or consultation. From there, you can make an informed choice about the best way to boost your smile's appearance.
Map Out an Orthodontic Plan
With a TRIOS 3D scanner patients are able to preview what their teeth would look like during and after orthodontic treatment. It uses the same technology that's used for creating alignment systems such as Invisalign and ClearCorrect. See the process before you even start treatment to get an idea of the duration and aesthetic goals that are possible.
Electronically Transport Models to Dental Labs
CAD/CAM technology makes it possible to use TRIOS 3D scanner to virtually make your new dental crown or lab made filling for a precise and accurate fit. Instead of having to transport models to a 3rd party dental lab and risk warping or damage, 3Shape allows us to digitally transfer the model directly to them for a precise fit.
3Shape eliminates the possibility of human error or damaged materials, providing you a great fitting restoration with faster turnaround than traditional impressions.
Experience the Difference for Yourself
Capturing your virtual impression is simple and only takes a few moments. As we scan the sides of each tooth throughout your mouth, you just sit back and relax. There are no large trays, gooey materials, or claustrophobic sensations to worry about. It's just like having pictures taken of your teeth!
Once it's finished, you'll be able to sit down next to our team and doctor to co-plan and co-diagnose the findings on your impressions. If a picture speaks louder than a thousand words, what does a TRIOS 3D image do? You'll be able to see all the information necessary to make a smart choice about your smile's future!